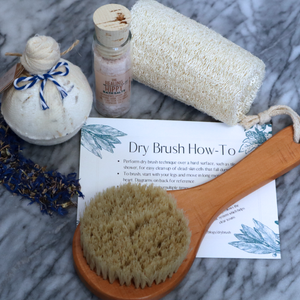 The Healing Hippy
Best Bath Bag
Regular price
$25.00
$0.00
We've got the perfect set to take care of all your bath needs, well, maybe 'need' is a strong word, but you won't go wrong with a little pampering from The Healing Hippy.
Before your shower, use the Dry Brush to remove toxins and loosen dead skin - we include a card to show you exactly how!

In the shower, use the all-natural loofa to shed dead skin.

Feeling your muscles and joints a little tight?  Treat yourself to a soak in our bath salts, will remove toxins, and relax you.
Just want to relax - drop a bath bomb into your tub instead.
Comes all wrapped up in a reusable bag. 
Need a gift?  You simply can't go wrong with all-natural products that delight the senses. Throw a bow on the bag and it's done. Your friends will think of your kindness every day.

Dry Brush: Vegan- Cactus Fiber

Bath Salt Ingredients: Epsom Salt, Baking Soda, Coconut Oil, Clay (For Colorant), Essential Oils

Bath Bomb Ingredients: Citric Acid, Baking Soda, Cornstarch, Witch Hazel, Epsom Salt, Coconut Oil, Flower Petals, Essential Oils
---
More from this collection